At Wieland Automotive, we know how vitally important it is to have traction when you're driving… especially in Upstate New York. We want to make sure our customers are safe on the roads by making sure they are equipped with tires that will help avoid wear & tear and promote overall vehicle harmony. That's why we provide some of the best tire product selection available.
It's very common for a new vehicle to settle within two years of purchase and it is strongly recommended that it be realigned to insure optional tire wear and gas mileage.
Alignments
Does your car seem to be pulling you towards one side on its own? Do your tires have excessive wear patterns? Those signs indicate that your vehicle needs alignment services. Wieland Automotive has state of the art alignment equipment that can help you avoid unnecessary cost in gas or tire replacement by keeping your vehicle aligned properly. Alignments can be related to tires, steering, or suspension issues. Check the diagram below for some images that will help tell you when your car may benefit from an alignment.
Advantages: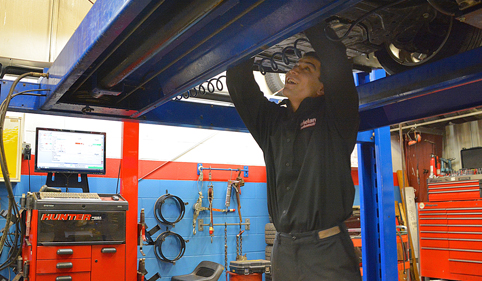 Computer Balance
Tire Repairs
TPMS Relearn and Testing
Road Hazard Available
Tire lights
Our Advice (when to get alignment):
Tire replacement
Steering repair
Suspension repair
Providing wheel alignments and balancing in Depew, Elma, Lancaster, West Seneca, Cheektowaga, NY and Surrounding Areas.