NY
Inspection

No Appointments necessary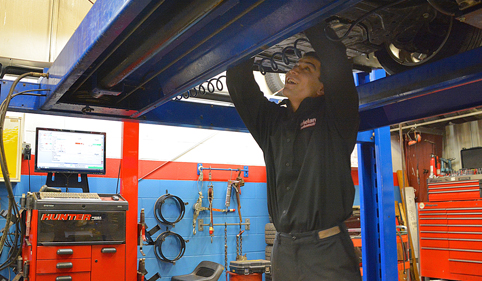 You must make sure that you have your vehicle inspected in a DMV approved site, repair shop, or inspection center annually. Wieland Automotive is certified to conduct all auto inspections. You can perform preventative maintenance on your vehicle to make sure your inspection goes by smoothly.

Everyone who owns and drives a vehicle that is registered in New York State is required by law to undergo a safety and emissions inspection. When you buy a new vehicle in New York State, the dealer is responsible for the inspection. The inspection must be completed within 30 days of the sale date and before delivery of the vehicle. If you register a vehicle in New York State, you have 10 days to get an inspection. The safety inspection and emissions inspection are conducted at the same time by a DMV certified inspector in the facility of your choice. Wieland Automotive is a certified NYS auto inspection center.

If you do not have your vehicle inspected, you will be fined and/or will not be allowed to renew your registration. If your inspection sticker have expired past 60 days you can be fined anywhere from $25 to $50. It it has been more than 60 days then the fine will be anywhere from $50 to $100. If you do not have an inspection sticker on your windshield, you will be fined anywhere from $50 to $100. There is a $55 state surcharge along with additional fees that is added to your fine. Be aware that if your vehicle is parked on the street with no inspection sticker, you will receive a parking ticket.

Here is a list of the systems and functions that will be inspected on and in your vehicle:
Inspection Sticker
If your inspection sticker does not properly stick onto the windshield, you are allowed to use clear tape or a clear adhesive. Please be aware that the inspection facility must be able to remove the inspection sticker when you come in the following year.
Seat Belts
Your seat belts will be inspected for adequate function and anchorage. There must be one seat belt for every seat in your car and no seat belts missing. This also depends on the year model of your vehicles.
- Model years 1967 - Present - There must be one seat belt for every seat in your vehicle. - Model years 1965-1966 - Two front seat belts are required.
Air Bag Warning Lamp
If it is found to be not working right or at all, you will be notified.
Horn
Your horn will checked for proper mounting and if it is functioning properly.
Mirrors
Your mirrors will be checked for cracks, breaks and discoloration. They must be properly mounted and secured for optimum function. Any vehicles whose sight is obstructed through the rearview mirror must have a left and a a right side mirror.
Brakes
There must be at least one tire removed to inspect your brakes. The condition and operation of all the components of your braking system will be inspected. Also, the inspector will check for any cracks and leaks. If there are any issues, the technicians at Wieland Automotive can offer you any type of brake repair services you may need in Depew.
Light
The lighting system in your vehicle must be working properly. Your lights will be inspected for the proper type, missing lens, adequate mounting and function. Contact us for all your auto electrical repair in Depew.
Windshield
Your windshield and other glass in your vehicle must be properly mounted and in good condition. Also, your wipers and blades must be properly functioning and in good condition. We also repair windshields!
Tires
Your tires must have a 2/32 inch groove space on the area of the tire with the most wear. They will also be inspected for any knots, bulges and anything on the tire that can restrict its use. Make sure to inspect your tires, and call MCA for your tire service in Depew.
Steering, Chassis, Suspension, Front End
The entire front end assembly of your vehicle will be inspected. The steering wheel play will be checked as well as all steering linkages and power steering. Your shock absorbers, and spring and torsion bars will be checked for any broken or sagging parts. The Chassis and wheel fasteners will be checked for any breaks, cracks and if any rust if present. For all your suspension, front end, or fluid leaks call Wieland Automotive in Depew today.
Emissions Inspection
Your vehicle is exempt from an emissions inspection if it falls into one of the following criteria: Less than two models old, 26 model years old or older, registered with historic plates, or electric powered only.

In the New York State, if your diesel powered vehicles is over 8,500 lbs and registered in the New York metropolitan area (including these counties; Nassau, Suffolk, Rockland and Westchester), your vehicle must undergo annual emissions inspections. All diesel powered vehicles that are 8,500 lbs over the maximum gross weight, may be subject to roadside emissions inspections statewide.

An On-Board Diagnostics (OBDII) is conducted on vehicles under 8,500 lbs and that are the model year 1996 or newer. This inspection examines that your check engine light is functioning properly and verifies the results of the on-board diagnostics system.

A low Enhanced Inspection is conducted on vehicles that are model year 1995 and older, up to 25 model years through and weigh 18,000 or less. Even if your vehicle possess any one of these emissions control devices, it is still subject to an emissions test; Catalytic converter, Exhaust gas recirculation valve, Positive crankcase ventilation system, Air injection system, Evaporative emissions control, Fuel inlet restrictor, and Thermostatic air cleaner.

In case any of the technicians at Wieland Automotive find any issue with your vehicle, such as failing your emissions inspection, they can always aid you in offering any of your auto inspection or auto repair Depew needs.
Providing New York State Inspections in Depew, Elma, Lancaster, West Seneca, Cheektowaga, NY and Surrounding Areas.